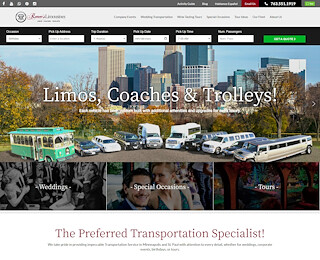 Coronations and Limousines for Event Transportation in MN
The coronation of Queen Elizabeth II on June 2, 1953, featured the Gold State Coach, a horse-drawn carriage that was commissioned in the year 1760. It has been used in coronations, royal weddings, and jubilees beginning with George IV in 1820. It is a heavy cumbersome carriage with gold covered cherubs and panels created by a famed Italian artist Giovanni Cipriani. The interior of the coach is lined with satin and velvet. With a value of over $1.5 million dollars, it is not a very practical means of transportation, but it does serve its purpose for the British Royal Family.
The rest of us will have to get to our special events using something other than the Gold State Coach, and that "something other" for folks in the Twin Cities of Minneapolis-St Paul, MN is Renee's Limousines. Since 1992, Renee's has been providing the event transportation to over 7000 weddings in their fleet of limos, coaches, and trolleys. They also provide the rides to other events such as anniversary celebrations, birthdays, bachelor and bachelorette parties, proms and sporting events.
If you are still feeling bad about not being able to access the Gold State Coach, consider that Renee's Limousines can take you in a Mercedes 12 passenger Limo Coach complete with a wet bar stocked with crystal glassware, room to stand up and move around, and dual 42" HDTVs along with a state-of-the-art sound system. Other choices include luxury SUVs and even an open-air passenger trolley that will carry up to 30 passengers.
Consider the Alternative
If you think paying $100 to $200 per hour for a limo is too expensive, consider that most celebratory events will include the consumption of alcohol and perhaps other substances. A first-time DUI will cost approximately $5000 and if there is an accident or injury involving drugs or alcohol the consequences will be life altering for both the victim and the impaired driver. Hiring a limo for your even transportation is the prudent choice when alcohol will be served at the event.
Parents of teenagers can rest easier on prom night knowing that their children will be in the hands of a driver who is fully licensed and trained by professional instructors. The driver will arrive on time and will be dressed in a suit or tuxedo depending on the event. The vehicles are detailed and inspected after every use and they are insured for up to $5 million.
Cold Grapes?
Are you a wine lover? Renee's Limousines offers four Luxury Wine Tours where you will spend a leisurely afternoon touring the various wineries around the Twin-Cities area. One tour is the Northern Wine Trail that will take you to the Upper St. Croix River Valley and to wineries that use cold climate grapes grown on the land surrounding the winery.
Renting a limousine from Renee's Limousines for your event transportation in MN is not the same as picking up a rental car at the airport. Planning is required so we recommend that you make your reservation as early as possible. For weddings, a 6 to 12-month advance booking is advised. Renee's offers an online Instant Quote feature that will allow you to plan your budget for your event and if you want to talk to one of our staff you can call 763-551-1919 to get answers to your questions about event transportation in Minneapolis-St. Paul provided by Renee's Limousines.
Event Transportation Mn
Renee's Limousines
763-551-1919
12813 Industrial Park Blvd
Minneapolis
MN
55441
View Larger Map